Zoom meeting links should be found in your email.
There are separate links for Reception and Nursery. Please make sure your username is the child's name so we can allow them into the session.
Below is the timetable we will follow each day, please make sure the children arrive for the session 5 minutes earlier.
9:30am Reception Phonics
10:30am Nursery activity
11:30am- Reception Maths
1pm- Nursery Story
2pm - Reception Story
There will be NO sessions for Wellbeing Wednesday but we will give craft challenges & physical activities online.
At our Celebration session on Friday at 1pm we will share our photographs and awards altogether.
Home Learning Challenges
Our home learning activities do not need to be printed off or returned to school. All activities are intended to be used as a visual aid to help your child practise their early reading, writing and maths skills. We would love you to email photos of the children working at home.
Friday 5th March 2021 - Home Learning Activities
Have fun exploring Elmo's world.
There are lots of activities for you to try!
Watch the video below with Maddison to help you learn about positional language
Maths - We are looking at 2D and 3D shapes today
Can you complete the puzzle by matching the correct shapes to reveal the animals?
Click on the picture to play!
Can you learn the 3D shape song?
Mrs Gorman's Phonics - we are practising the th & ng phonemes.
Try to read and write the words below.
Miss Jackson's Phonics - we are practising the ar sounds.
Try to read and write the word below.
Topic
World Book Day activities
Please send pictures of your creations to eyfs@stacksteads.lancs.sch.uk
Read as many books as you can for a chance to win a £10.00 amazon book voucher to celebrate world book day!
Click on the bug below to access your bug club account
Numicon shapes and numerals 1-10
Phonics phase 2 and 3 sounds.
Have a go at saying your sounds! Can you form the letters correctly?
Challenge yourself how long does it take you to say them all?
Can you sing along to the tricky word song? Have a go at writing some of the words down.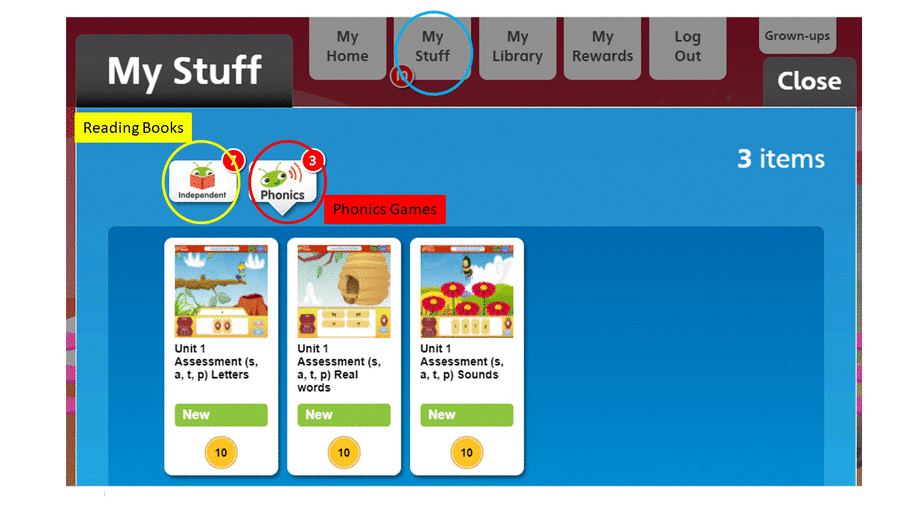 Don't forget to click on the bugs to do the quiz - they should all have their eyes closed at the end of the quiz.