Did you know that we share our school grounds with badgers, foxes, lots of small mammals like hedgehogs, rabbits, squirrels and mice as well as many different kinds of birds and thousands of insects and other mini-beasts?
The 2018 Wildlife Rangers
HOLY TRINITY WILDLIFE RANGERS
Our job is to help the wildlife that shares the school grounds with us to survive and thrive.
OUR FIRST PROJECT - THE MINI-BEAST HOTEL
The Mini-Beast Hotel has lots of tubes and sheltered nooks and crannies in it that insects and other mini-beasts can use to hibernate in and shelter from the cold winter weather.
We used two wooden pallets, lots of plastic tubes, some roof tiles, wood chippings and lots of fallen tree branches and twigs to create our Mini-Beast Hotel. We worked well as a team to finish the job.
WILD BIRD FEEDING PROJECT
Many wild birds struggle to find enough food in the winter so we decided to help them out.
We have bought a Feeding Station for the different kinds of wild birds that visit our school grounds. We asked Mr McMenamin to build it and put it into the ground. We have organised a rota for the Wildlife Rangers to make sure there is always food and water for the birds.
You can see from the photograph below that we have already had some birds visiting the Feeding Station, although it may take a few weeks before lots of birds use it. We will try to get some photographs of the birds that are visiting the Feeding Station.
BADGER CAM
We have placed a Trail Camera in the woods close to the entrance of our Badger Sett. We hope to get some photographs and video of them this week.
We captured this image of one of our badgers on Tuesday night. It looks like an adult. It is going back into the Sett. We didn't get a photograph of it leaving the hole so this suggests that there are other entrances to the Sett close by that this badger used to get above ground. We are moving the camera to another location to see if we can get more photographs.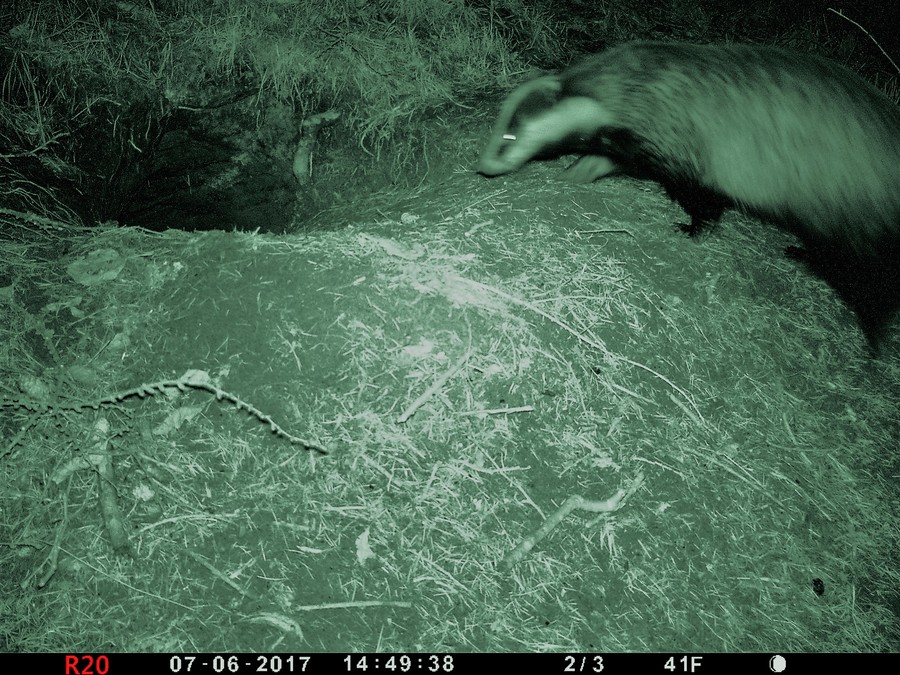 HEDGEHOG SHELTER
Hedgehogs survive the winter by hibernating in dry and sheltered places. As the weather turns colder hedgehogs search out suitable places to hibernate. Many will be doing this over the next few weeks. We have built a hedgehog shelter in the woods using hay, dry leaves and two old Christmas Trees.
NATIONAL NEST BOX WEEK 17TH - 21ST FEBRUARY 2018
Our Wildlife Rangers have been busy this week placing 6 nest boxes in the woods at the back of the school. These will hopefully provide ideal nesting sites for small birds such as blue tits for many years to come.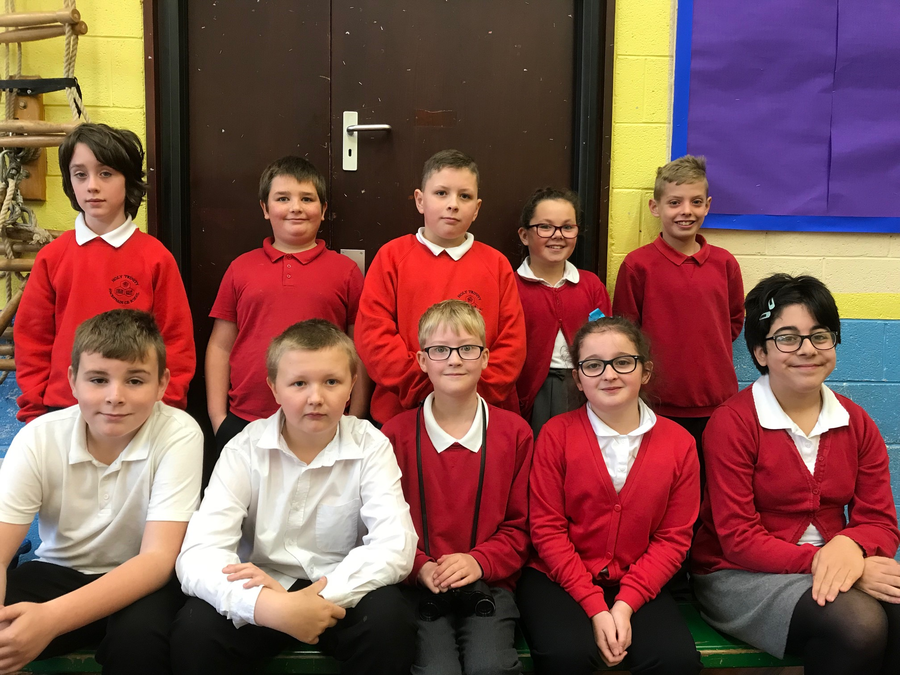 THE WILDLIFE RANGERS 2017:
Head Ranger: Soren
Deputy Head Rangers: Jacob, Liam and Nyah-Rae
Senior Rangers: Cameron, Rukiye, Brandon, Bobby, Evie and Henry