Year 6 Blog! Keep an eye out for the updates every week!
Week commencing 24th September
This week in reception they have been learning to count and are starting to learn their phonics.
In Year 1 they have been up to the forest finding dead, alive and never been alive.
Over in Year 3 they have been making brilliant phone cases and investigating exercise.
In Year 4, they have started their topic on Romans whilst year 5 have been learning about human rights.
Year 6 – the Macmillan coffee was a great success. Thank you to everyone who donated.
Harvest took place at church on Wednesday afternoon, all the children performed well and we all enjoyed the service.
Welcome back to a new year at Holy Trinity we have lots of exciting news that we want to share with you.
Lots of new children have started in reception and nursery.
Whilst Year 1 have been settling into their new class, year 2 have been researching Iburn Attuta one of the first explorers.
Over in year 1/2, they have been rewriting 'We are going on a bear hunt'.
Year 3 have been learning how to stitch and they are doing brilliantly.
Year 4 have been building bridges and they have been on their first swimming lesson.
Year 5 are doing well with all their hard work and Year 6 will be hosting the Macmillan coffee morning on Friday 28th September at 10:30am.
Spellings for the spelling test on Friday 15th October .
This weeks spellings are ~able and ~ible endings, part 2
dependable
comfortable
understandable
reasonable
enjoyable
reliable
possible
horrible
terrible
visible
incredible
Active Learn
All have access to this fantastic website which allows children to strengthen and develop their reading skills.
Find it at: www.activelearnprimary.co.uk
SUMDOG
Children have a log in for the online Maths programme Sumdog.
Click here for the website.
Here is the presentation that was shown at the Welcome Afternoon. If you have any questions, please do not hesitate to ask. Many thanks.
Literacy
The children will be writing their own 'Mystery Stories'. For grammar and punctuation we will be looking at words and phrases that cause suspense and mystery. Check out the picture below for some ideas to use in your writing.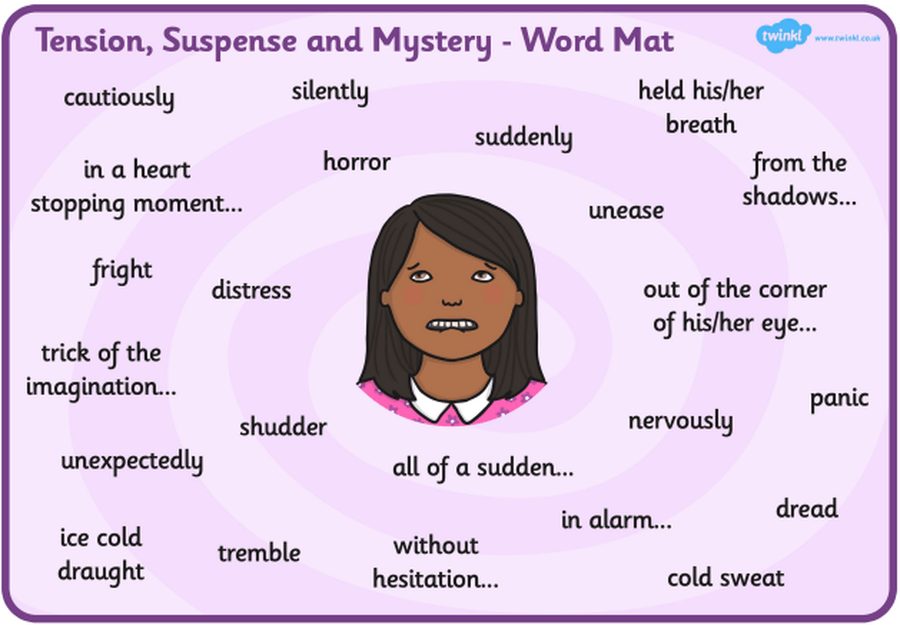 Maths
In maths we are concentrating on:
Addition, subtraction, multiplication, division, place value and time tables! Any extra practice at home will be most helpful at this early stage.
Times tables - click here for an online game!
P.E. P.E is on a Monday and a Friday. All children must have a plain t-shirt, plain shorts and the correct sized pumps in school at all times. They will be sent home at the end of every half term. P.E. on a Monday will be taught by Mr. Doidge. P.E. on a Friday will be taught by Mrs S. Barnes.
Art
Our new unit of Art will focus on the skills of drawing portraits. The children will be developing their skills and completing a portrait of the Queen!
This BBC video will help to give some ideas on technique.
A warm welcome to our new Year 6 children! We hope you have had a relaxing summer holiday and the children are ready for what Year 6 brings!
P.E. kits will be required on Monday 3rd September.
Our Year 6 welcome meeting is on Wednesday 12th September at 2pm. We hope to see you there.
Don't forget to keep reading your books! Remember: 50 pages equals 1 ticket in our prize draw at the end of term.
Record all your reading activity in your reading records daily please.