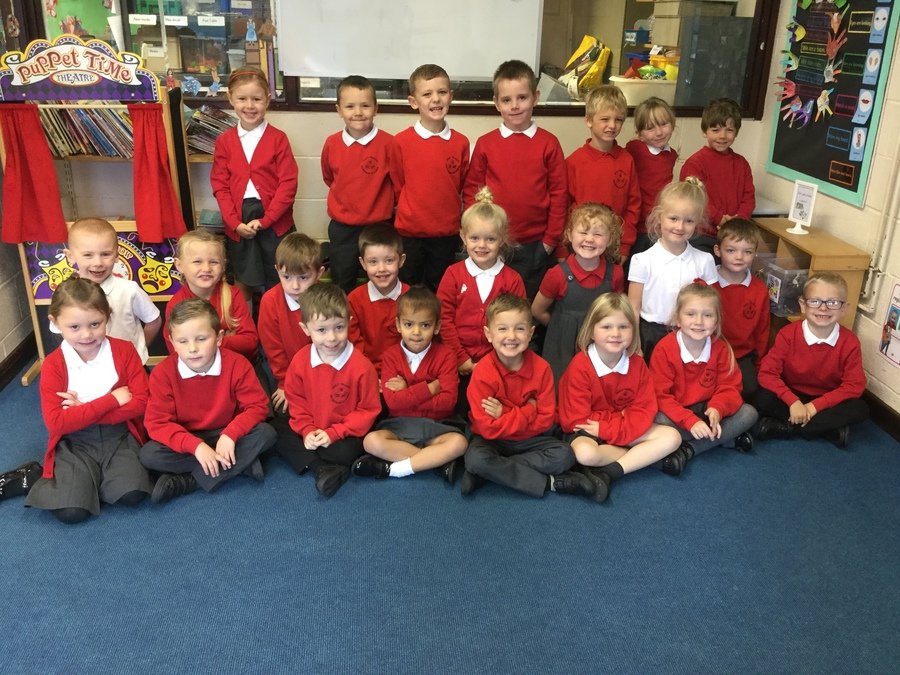 RE trip to the Church.
Thank you to Reverend Brae for inviting us into his church and conducting a mini baptism for our baby doll. After learning about the Christian ceremony of Baptism in Religious Education, the children got to see in real life how a baptism is conducting in a Church and understand the messages and reasons for having a Baptism.
Welcome back to Spring term 1.
I hope you have all had a wonderful Christmas holiday and have all had a good rest.
This term we will be........
Writing recounts and fantasy stories.
Measuring the mass (weight) of objects and exploring pictographs.
Exploring materials and investigating suitable materials based on their properties.
Exploring Christianity and learning about God, the Church and Jesus.
Creating our own talking story books in computing.
Learning lots of different PE skills-rolling, throwing, catching and kicking.
Practising reading lots of real and nonsense words ready for the reading check in the summer term.
Don't forget to check the school calendar for up and coming events.
PE days are Monday and Tuesday
Homework books will be sent home on Friday, to be returned the following Thursday.
KS1 Christmas Party 2018.
Thank you to everyone for joining us for a great day!
Thank you to everyone who joined us for our Christmas craft afternoon.
We all had lots of fun!
Autumn Term 2
What a fun packed term we have to look forward to this term.
This term we will be......
Literacy- Learning about non-fiction texts. We will learn how to write instructions and continue to practise writing our super sentences. We now know that a super sentence needs a capital letter at the beginning, finger spaces, punctuation and it must make sense.
Why don't you have a go at writing some super sentence about what you are doing at home this term then bring it in to share with the class.
Maths- We will be looking at ordinal numbers-1st, 2nd 3rd etc. We will then be moving onto addition and subtraction to 20.
Keep practising your number bonds to 10 and writing your numbers the correct way.
Topic
Art- Our topic in art this term is printing. We will be looking at the artist Kandinsky and using his work to inspire our own drawings, printing and paintings we will be doing throughout the topic.
Design and Technology- This terms DT topic is healthy foods. We will be learning about healthy foods and planning and preparing our own healthy snack. We may even get to taste new foods!!!
PE-We will be exploring dance this term and using our love for traditional tales to inspire our dance movements.
On Monday PE will be with Mrs Gendler-Watson and on Tuesday with Mrs Barnes.
Dates for the diary
Tuesday 27th Nov- KS1 Christmas craft day (parents welcome, please look out for the letter with more details)
Thursday 29th Nov- Christmas market 6:30pm
Monday 3rd Dec- Parents evening
Thursday 6th Dec- KS1 Polar express day (parents welcome, please look out for the letter with more details)
Wednesday 12th Dec- Christmas fair 3:15pm
Monday 17th Dec- KS1 Nativity 9:30 am
-Christingle at Church 1:30pm
Tuesday 18th Dec- KS1 Nativity 2pm
Thursday 20th Dec- KS1 Christmas party day
Friday 21st Dec- School closes for Christmas 2pm
Our walk around Stacksteads
Active Learn/Bug club guide for parents.
| Name | |
| --- | --- |
| bug club guide for parents for website.docx | Download |
Showing 1-1 of 1